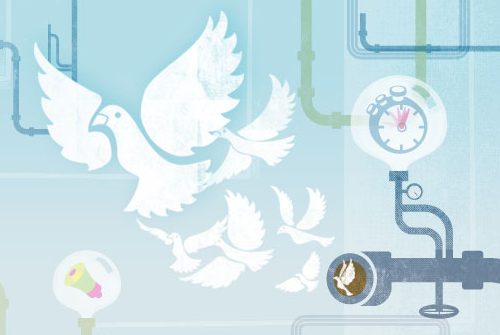 These tips come from from Jim Westergren's "Make Firefox run up to 4 times faster" and are for version 3.0.9 of Firefox. Please read his blog entry for detailed description of the settings.
These are good for users who browse a lot, have broadband connection and likes having lots of tabs open at the same time.
To change these settings type about:config in the address bar and filter by the following keys. Values are after the ;-character.

browser.history_expire_days_min;10
browser.sessionhistory.max_total_viewers;1
browser.tabs.tabMinWidth;80
layout.spellcheckDefault;2
network.http.max-connections;100
network.http.max-connections-per-server;20
network.http.max-persistent-connections-per-server;8
network.http.pipelining;true
network.http.pipelining.maxrequests;8
network.http.proxy.pipelining;true
network.http.request.max-start-delay;0
network.prefetch-next;false

There are also two new values that can be entered. Right click a white space and choose new.
config.trim_on_minimize;true
nglayout.initialpaint.delay;100
Another tip for users who likes having a lot of tabs open is to set a narrower width than the default 100.
browser.tabs.tabMinWidth;70
Works great and makes Google Reader and other web apps much more responsive.
By Jesper Lind